http://www.housebeautiful.co.uk/decorate/display/news/a98/festive-fairy-lights/

We've had some more lovely press coverage and a fab blog write up on one of our most favourite online blogs HeartHome. We've been avid followers of HeartHome since its conception when Blogzines really began to take hold so to be written up by Carole, one of its founders, is a real accolade for us! Have a read here then divert yourselves to the HeartHome online magazine which is a real treat
We are thrilled also to be included in Grazia Live's Secret Santa Christmas Gift Guide, Pompom Garlands make ideal Christmas Gifts, somehting a bit different - a bag of smiles! http://www.graziadaily.co.uk/christmas/secret-santa-gift-guide

Click the image link here but also get fully distracted by all the other wonderful ideas they have put together ....
Press Coverage: Angels & Urchins Magazine. We had a fabulous inclusion on the main fashion spread which is 'Party'. The Blue and the Apple Green Garlands look terrific in the shot.

Press Coverage: Sunday Times Style, hit totally the right note with 'Bunting being so last year' made us chuckle !

We were over the moon when the hugely talented stylist Caroline Davies chose to use our white pompom garland for an advent blogpost on her blog Trend Daily. The image is divine!

The Pompom garlands seemed to have hit a cord with discerning wedding stylists, they work really well in a wedding setting - The winter issue of Dotty Vintage Weddings borrowed a load of white pompoms for an incredible shoot they did before Christmas. It really shows the effect that multiple pompom garlands can give. See [page 28 onwards to see what we mean. There is also a super video you can watch here: Behind The Scenes
Hus & Hem the most fabulous Scandinavian emporium in Ledbury has adorned it's Christmas windows with multi-yarn coloured pompom garlands and the cream yarn pompom garlands. See these pics, and see if you can't smile! Picture links to the Hus & Hem Scandinavian Christmas page - it's worth a look very much .. so ..

A selection of garlands were in demand to help decorate a small marquee area at a private wedding viewing at Iscoyd Park, Shropshire last weekend. It is lovely to see them being used like this, something we envisaged when we were developing the ideas back in the Summer.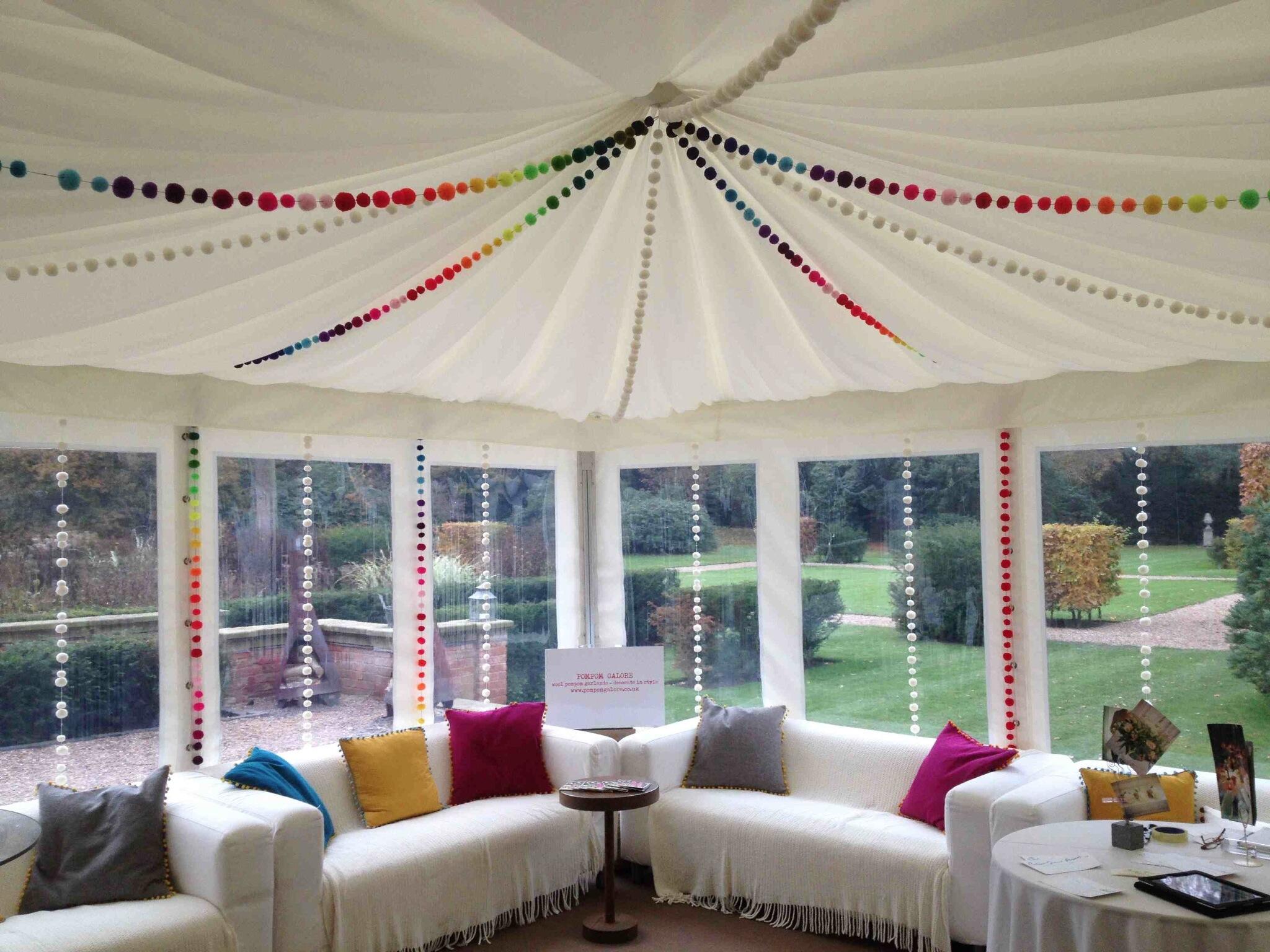 One of our lovely regional publications Shropshire Review included us in their Christmas Decorations feature. It was super when our friends spotted us to let us know that we were in the magazine! Thank you All.
We were delighted when the hugely talented Kalm Kitchen contacted us for pompoms to work on a display at an exclusive event last week. The stand looked stunning, the food incredible - and the Pompom garlands looked resplendant.